If you've seen the red-haired Sam Heughan on Amazon's Outlander, then you'll know that he's the ultimate action man. It's perhaps not that surprising then, that he Sam Heughan auditioned for James Bond. He's been thrust back in time in Outlander and forced into the pressure zone on Doctors, so did the Bond producers miss a trick in opting for Daniel Craig?
Outlander news from
Outlander tours Edinburgh
– visit three to five Outlander locations in one day , including Lallybroch and Castle Leoch
"I did audition for Bond a long time ago when they were redoing it with Daniel Craig when he was Bond 21," Heughan confessed on U.S. show Live With Kelly and Ryan, the Radio Times reports. His appearance was ahead of the fourth season of Outlander, which sees Heughan playing Jamie Fraser, an 18th century Scottish warrior who steals the heart of Claire (played by Catriona Balfe), as well as just about everyone watching at home. So, maybe count your blessings. If Heughan had landed the Die Another Day role, he might not have become the sexy Scottish warrior you thirst over today.
It's not just the role of James Bond that Heughan's had bad luck with. As he told Vulture back in 2014, he tried auditioning for Game of Thrones a whopping seven times before settling into his Scottish warrior role. "I auditioned for Renly, Loras,some of the members of the Night's Watch. And I'd always get so close! I'd be like, 'Guys, just give me a sword!'" While he didn't get Bond's gun or martini, nor Jon Snow's Longclaw sword, he did finally get a sword when he joined Outlander.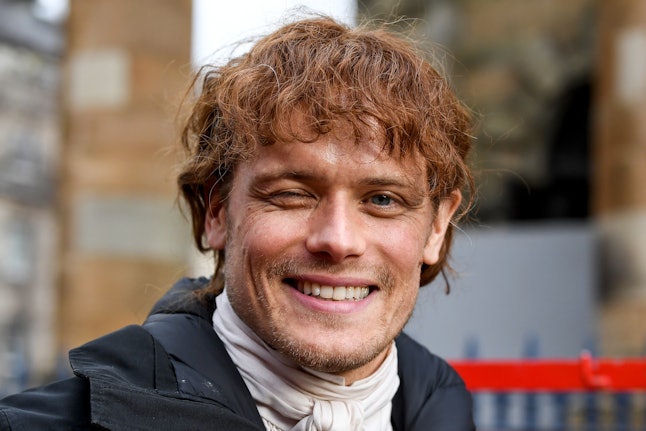 He revealed in the same interview that he did feel an affinity to Jamie Fraser, as he gushed:
"Something about this one just felt right. This part felt different. I knew this character. I felt a connection with him. I knew where he had come from."
Even though I'm unable to think of an actor better suited to the role of Fraser (Gerard Butler, maybe?), the pundits — and the actor himself — aren't letting go of the idea that Heughan could be the next Bond. "I've always wanted to play James Bond. It's a part of every British actor's legacy," he told the Sunday Post back in July.
As the Sunday Post also reported, Heughan's odds to play 007 were once a beefy 50/1, but those were slashed when he played a spoof spy role alongside Mila Kunis in The Spy Who Dumped Me, which was released in the UK back in July. "Are you really in the running for James Bond? Please say yes," he was asked by a fan during a Facebook Live interview back in July, as The Scottish Sun reported. "Well if you would like me to, of course I will. I feel like I've got the tuxedo and I've got the car from this movie so I could just take them with me," he reportedly answered, referring to his role in The Spy Who Dumped Me. We all know about Bond's deep Scottish roots, so it wouldn't be any surprise if Jamie becomes James ( Bond , James Bond )
Outlander tours
Outlander tours can be booked online or by phone on (+44) 0131-549-9785 for details and bookings .
Visit Lallybroch Castle ( Midhope Castle ) for just £90 . Hourly service from Edinburgh between 10 am and 2 pm . Phone (+44) 0131-549-9785 for details and bookings . Free pickup and dropoff from Edinburgh. Add two more Outlander film locations – Fort William and Wentworth prison –  for a unique tour costing just £150 . Phone 07305-294773 for details and availability of Scotland Tours from Edinburgh .
Buy Outlander gifts online